The GeekStorage Headquarters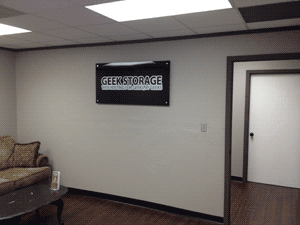 US Headquarters
GeekStorage.com, LLC
210 E. Main St., Suite 219
Norman, OK 73069
The "Geek" Advantage
The geeks behind GeekStorage.com know what it takes to offer high quality web hosting. Having hosted over 20,000 websites, we know that guaranteed performance backed up by "Powered by Geek" support ensures you are with the best.
"Web Hosting For Geeks, By Geeks"
That's our driving force. We know you like lots of cool features and our goal is to deliver them to you, along with guaranteed performance. We are constantly developing and deploying backend features that add value to your service - free of charge. After all, proprietary features combined with leading industry software allows you to experience truly superior web hosting.
Powered By Geeks...
Your website is in good hands - geek hands. We live and breathe web hosting, this is what we do. You can rest assured that we have the knowledge, experience and stockpiles of Redbull to keep the lights on (servers that is!).
GeekStorage Guarantees
We know you'll enjoy our worry free web hosting. After all, who doesn't like a good night's sleep? But, if for any reason you don't like our service, we offer a no questions asked, unconditional 30-day Money Back Guarantee.
In addition to our money back guarantee, we also offer a 100% Satisfaction Guarantee as well as a 99.9% Server Uptime Guarantee. We know you're seeking reliable hosting and we're guaranteeing it to you.
Have any questions?
Feel free to contact a Sales Geek for assistance.